If you are like the majority of people, you love fluorescent lights, mainly due to their durability. Compared to the traditional incandescent bulbs, they utilize 75% less energy, and most importantly, last six times longer.
However, have you ever thought about the dangers involved when they break? If no, you need to be aware of the essential facts surrounding the breaking of this type of lamp. Since they contain mercury – on average 4 mg per bulb – you must handle any broken fluorescent bulb as a hazardous material.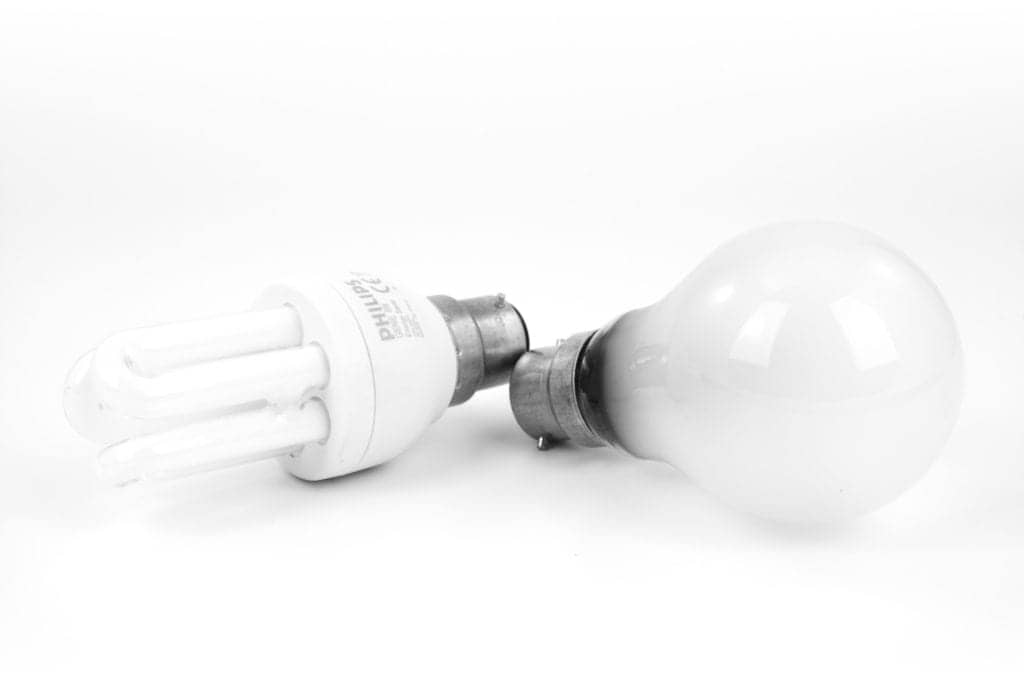 What Level of Danger Are We Talking About?
Fluorescent lamps tend to break occasionally just like any other glass product. When it happens, many homeowners who are aware of the presence of mercury run in panic mode. These fears are understandable considering the possible exposure to mercury, and the associated adverse health risks.
Before we jump to what one is supposed to do when it happens, it is imperative to understand the level of danger we are dealing with. Does the situation warrant digging out a gas mask and perhaps Hazmat suit?
To determine how one must behave during a broken lamp incident, Earth911 interviewed Union of Concerned Scientists', senior energy analyst, John Rogers. According to the clean energy specialist, homeowners need not panic because a broken fluorescent lamp is a manageable problem.
Any amount of exposure to mercury is linked to potential health concerns. However, Rogers explains that due to the small amount of mercury, and the minimum period of exposure to the same, a broken fluorescent lamp doesn't pose any significant risk to you and your family.
Clean Up and Disposal of Broken Fluorescent Lamp
Irrespective of the fact that fluorescent lamps contain less amount of mercury, compared to other types of lamps/bulbs, you must take enough precaution. You need to familiarize yourself with tips surrounding how to clean up broken fluorescent lamps safely.
Practical tips for cleaning up the mess:
I. Airing out the room – immediately after the lamp breaks, ensure to let the air out for about quarter an hour. According to the Environmental Protection Agency(EPA), the very first thing one should do is get people and pets out of the room, and then air it out for ten minutes, and if possible, for several hours.
II. If the air conditioning or heating system is on, consider shutting it off. The objective is to prevent the circulation of mercury in the room.
III. Look for a sealable container, preferably a glass jar with a metal lid. In its absence, you may use a plastic food container. A sealable plastic bag would also come in handy.
IV. Resist the urge to sweep up everything using a broom. Instead, pick up the pieces to keep possible mercury contamination at bay. Also, stay clear of your vacuum as using it may translate to releasing mercury into the air. Scooping up the significant bits of glass using cardboard or hard piece of paper is the surest bet. Once you have finished picking the large pieces, use a piece of duct tape to lift the tinier ones and any visible white powder. If you cannot find the duct tape, a portion of bread is equally useful. Do you need anyone to remind you that you cannot eat the piece of bread you've used?
V. With the help of a damp paper towel, wipe the affected surface clean. Be careful not to leave any white powder behind.
VI. Air out the room for a few more hours. While you may have given the floor a thorough cleanup, the air might still have some traces of mercury vapor. Don't put on the AC just yet. Leave it off for a couple of hours as well. In any case, you want to ensure the utmost safety.
VII. Dispose of the broken fluorescent lamp. The mode of disposal is dependent on the requirements of your local government. Regulations of the government notwithstanding, do you think it is prudent to have the broken fluorescent discarded in a landfill? The ideal approach is to take the broken bulbs to a recycling facility.
VIII. Clean your hands thoroughly.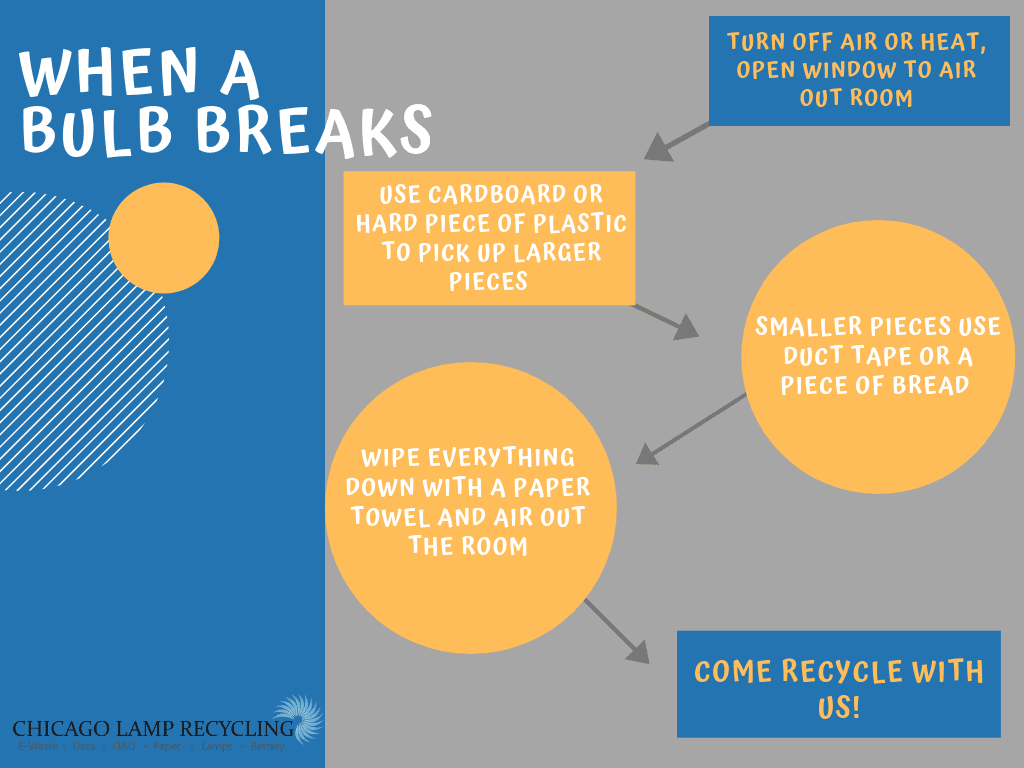 Why is Recycling Important?
We all have an obligation to our environment. Environmental sustainability is dependent on our individual and collective actions. As such, we must act responsibly, and one such way is to ensure the recycling of broken fluorescent lamps.
When you throw used fluorescent bulbs into the general trash, they make their way to a municipal landfill. The exposed mercury then filters into the ground, and eventually, makes its way to our water supply. Its absorption by aquatic animals means that it is passed up the food chain. If you eat fish, you know what this means.
Look for a recycling facility such as Chicago Lamp Recycling, and do the right thing. For more information about the firm visit https://chicagolamprecycling.com.
Resources
https://www.aarp.org/politics-society/environment/info-08-2011/broken-fluorescent-bulb-ask-the-experts.html
https://www.cnet.com/how-to/how-to-clean-up-a-broken-cfl-bulb/
https://earth911.com/home-garden/broken-cfl-clean-up/
-Our Supporters-
Homeschooling family
IT Asset Disposiition
Electronics Recycling
Hard Drive Shredding
Hot Travel Mom
Trynsomethingnew
Full Time RV Family
Magic Mushroom Guide